KFC
Establishment and food at 19 Cromer Avenue, Grand Falls-Windsor, NL A2A 1P3, Canada. Please contact KFC using information below: address, phone, fax, email, opening hours, customer reviews, photos, directions and more.
Opening hours
| | |
| --- | --- |
| Sunday | 11:00am — 09:00pm |
| Monday | 11:00am — 09:00pm |
| Tuesday | 11:00am — 09:00pm |
| Wednesday | 11:00am — 09:00pm |
| Thursday | 11:00am — 09:00pm |
| Friday | 11:00am — 10:00pm |
| Saturday | 11:00am — 10:00pm |
Rating
3 /5
Based on 1 reviews
X
Photos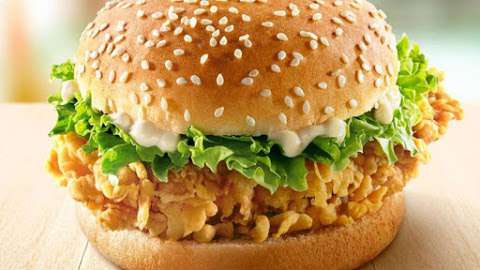 Reviews of KFC
Samantha Morey Added 2018-04-26

★ ★ ★ ☆ ☆

As soon as we opened the door to the restaurant, a guy working said "it'll be a 20 minute wait on chicken" and as we discussed what we would have instead he said, "you know we close at 10"... it was 8:56pm. He gave us the impression that they didn't want to have to put down another batch of chicken before they closed in an hours time. Needless to say, they didn't get our service tonight. On other occasions I've heard some terrible things as well... skimpy on food, cold when you get it, poor service, long drive thru wait times, running out of things mid day and now poor customer service. I never post complaints, but this is ridiculous and something needs to be done!
About kfc.ca
KFC.ca | It's Finger Lickin' Good
Hungry? KFC Canada has variety of delicious meals. Check out our menu and order one of KFC's famous meals. Fried Chicken, Buckets and more. Order KFC right now!